If you hate reading then go to Tom 7's Invincible Home Page! Otherwise welcome to His Sophomoric Effort!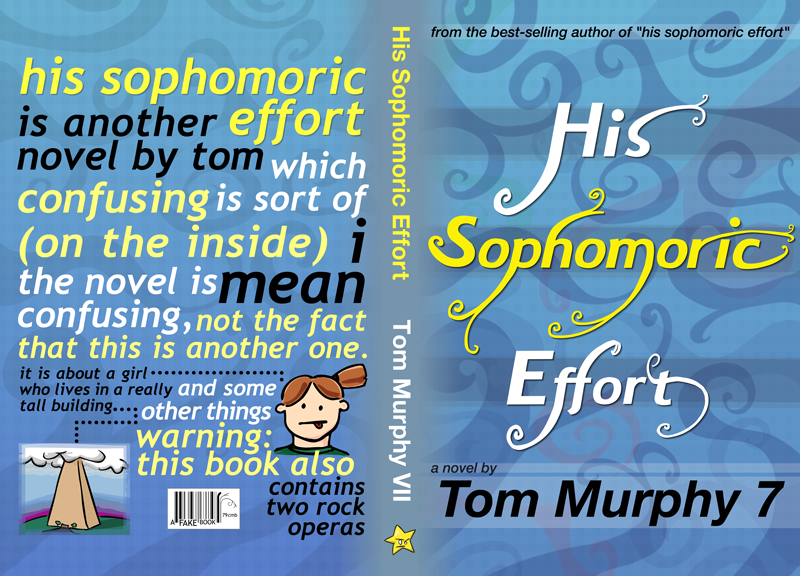 I wrote another novel for the 2004 National Novel Writing Month. This year I wrote 50,000 words during the 30 days of November 2004, plus a bonus 5,000 words or so in the several months before that. That, coupled with all of the illustrations in this one (over 30) lead to a book that's 267 pages long, which is 50% more than my last novel.
This is the fourth edition of the novel, released in May 2010. The subsequent issues fix some typos, adjust the cover and format for print, and improve some of the text.
I'd love for you to read my book and share it with your friends!
You can download a copy in your choice of paper size for viewing or printing (1.9 Mb):
You can have lulu.com print a copy, with color cover (as seen above) and softcover binding, for about twelve bucks including shipping. They come out really well. I don't make any money off this, it's just a convenient way to get a printed copy to put on your bookshelf so you don't have to read it.
If you like my book, leave me a comment! You might also consider looking at my novel from last year, Name of Author by Title of Book.
Here is the rest of my web site: http://tom7.org/
---
Also available: sophomoric6x9-partyversion.pdf.rc4.bz2.gz.jar.zip.rar.arj.lzh.gz (1.6 Mb). For posterity sake, this is the version that was complete on the night of 30 November 2004. It hasn't been edited, is missing a scan or two, and is compressed and encrypted with 8 different programs to discourage you from downloading it. Get the completed version instead! (The password for the RC4 stream cipher is the same as Alexis uses in the book to access her online banking, assuming ASCII.)